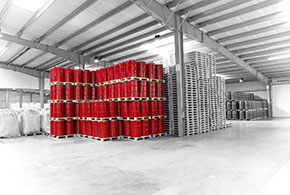 If hazardous substances are used or processed by your company, especially in the manufacture of your products or goods, then you need a technical and organisational infrastructure that guarantees operational safety for your employees and for your means of production. This infrastructure – hazardous substances management – must fulfil the legal requirements and should ideally promote an efficient manufacturing process.
When handling hazardous substances, a multitude of legal regulations apply, which are constantly being updated due to technical progress. The aim of these regulations is always to avert potential dangers to persons and the environment and in particular to protect your employees and your business premises from the harmful effects of chemicals.
Nowadays efficient manufacturing processes go hand-in-hand with targeted operational safety in the workplace. By consistently reducing the consequences of accidents and illness, you can stabilise your manufacturing processes for the long-term and avoid additional costs.
We would be happy to work with you to achieve these goals.